This or That Tag
Oy! I have not blogged in forever and I'm so sorry about that. I've been busy! Can you hear me belting the tune "For the First Time in Forever" right now? My family sure can.
There will be an explanation post up in the next few days (hopefully).
Anyway, in my absence, I'd been tagged twice for two different tags so I'm going to get started on the first one! I feel so popular ;)
Thanks to the lovely Amy-Anne over at
The Blog Hermit
, I've been tagged to answer several "this or that" style questions. Please go and stalk her blog. Make sure to leave comments and tell her that I sent you!
Here goes nothing!
The rules;
1. Answer the questions given to you
2. Give the people you nominate the same questions
4. Let the amazing three know that they've been tagged
So here we go!
Hair up or down?
For me, it depends on the occasion! If I'm heading off to a party, I would prefer it done up in a fancy do. For just going to school or chilling at home, down suits me more because it's quite easy in the mornings to just run a brush through it.
Dessert or fruit?
Hmm, this is hard. I'm going to have to cheat and say a fruity desert such as a pie, or chocolate covered strawberries. I love both!
Dress or shirt and sweatpants?
Those who know me in real life know that I am the worst when it comes to fashion, so this is not a difficult choice at all. Sweatpants all the way!
One Direction or Jonas Brothers?
ONE DIRECTION! I am going to their concert this summer after all! Either way, I never understood the Jonas Brothers craze.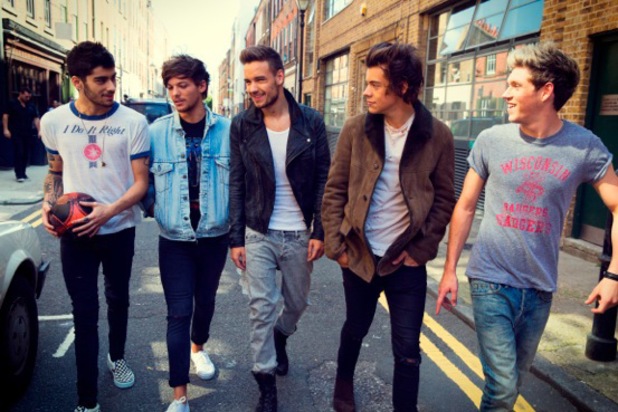 via http://i1.cdnds.net/13/51/618x412/mtv_stars_2013_1d.jpeg
Radio or iPod?
iPod because commercial and advertisement breaks on the radio drive me crazy
Sleepover at your house or at a friend's house?
I don't really like sleepovers in general... Not in mine or at other's houses.
Cookies or apples?
Can I go with apples with carmel? ;)
Playing cards or painting?
I can't paint. It can be extremely fun, but I always seem to end up unhappy at the result. So... playing cards it is.
In a board game, would you rather be a green or a white piece?
Green! White is just too boring.
And now it says I must tag three people, so I nominate:
and
Congrats to you guys and enjoy! I'll be back up to my normal (posting) self soon :)
-July