Chicks with Sticks!
Hey everyone! Remember a long time ago when I did the Fashion Faux Pas for a Megan (MDBC)? Well today Sea told me that I should do another one. So... I'm gonna do Cassidy's (also from MDBC) Chicks with Sticks! Except that there aren't many girls hockey teams around. So I'm gonna post lots of hockey mascots and other random hockey stuff that I find. If you don't know, in book one (I think) Cassidy and her family move to Concord and she is a total tom-boy. So anyway, Emma's brother Darcy helps sneak Cassidy into the boy's team tryouts (1. there wasn't a girls team and 2. because her mother didn't want her playing hockey) and she made the team! So later on, Cassidy with the help of Mrs. Bergson (an Olympic figure skater) starts a girls hockey program called Chicks with Sticks to teach little girls to skate and play hockey... So there you have it! Welcome to Hockey Town!
New York Rangers:
How huggable!
Fun fact - the team has a plush mascot!
New York Islanders:
Boo! Ha got ya!
New Jersey Devils:
Um... ok. I wouldn't dress up in this costume.
San Jose Sharks:
Taa-daa!
Phoenix Coyotes:
Wow! This one actually makes sense!
It's a coyote that's doin' the disco!
Los Angeles Kings:
Roar! The mighty lion! King of the jungle!
But not the king of Hockey Town!
Dallas Stars:
Sorry once again no mascot...
I wouldn't want to get in his way...
Anaheim Ducks:
Wow a slide show! Cool! I honestly didn't know
that it was a slideshow!
Quack, quack! His head is kinda creepen' me out...
Edmonton Oilers:
Sorry I couldn't find a mascot... but I found the next best thing
ANNOYING CHEERLEADERS! Whoopee...
Can I get a D?
D!
Can I get an E?
E!
Can I get a T?
T!
Can I get a R?
R!
Can I get an I?
I!
Can I get an O?
O!
Can I get a T?
T!
What does that spell?
DETROIT!
WOO!
Yes I know these are the Oiler's cheerleaders... but...
Minnesota Wilds:
Aw how cute! He's helping out the little munchkins!
What a kind... bear? cat? creature?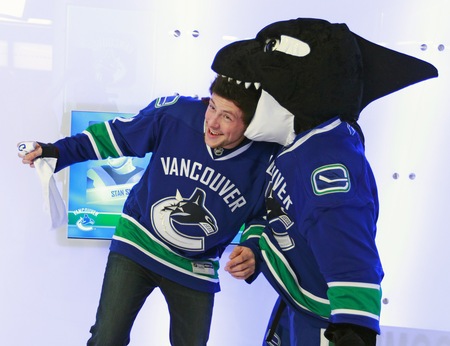 Vancouver Canucks:
Someone forgot to eat breakfast... cough, cough Sharky
Aren't we such a nice country letting Canadians play
hockey in our league?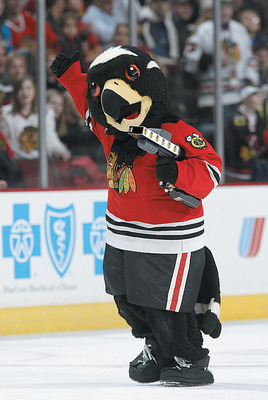 Chicago Blackhawks:
Wait... Does he have a gun?
Columbus Blue Jackets:
I think they must mean
Columbus Green Jackets...
Detroit Red Wings (my #1 team):
Yes, this is their mascot, he's not a person
though, he floats around the top or the rink.
I've always wondered what a "red wing" was
I guess it's a special kind of octopus!
Nashville Predators:
Break dancing! Nice moves!
St. Louis Blues:
Pose and say "cheese!"
Calgary Flames:
It's a bird! It's a plane! No, It's Harvey the Hound!
Fun fact - This mascot's name is Harvey the Hound!
Colorado Avalanches:
Watch out! It's a Yeti! He's gonna eat her (Sea)!
Philadelphia Flyers:
(no actual mascot....)
Hey! It's My Little Pony
Flyer style
Pittsburgh Penguins:
Slacker!
Ok, so doesn't his face look nerdy?
Boston Bruins (Cassidy's team):
Don't worry little child, I'd
be terrified too.
Buffalo Sabres:
Hey he's got a mini version of
himself! I wonder if it's his kid ;)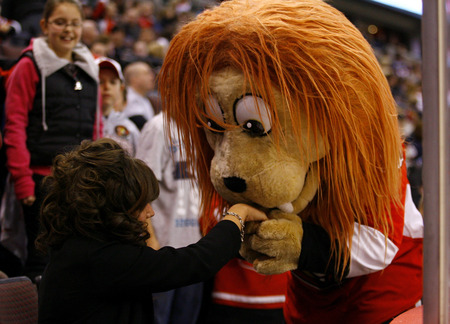 Ottawa Senators:
Ooooooh! Somebody's in luuuuuv!
Close your eyes!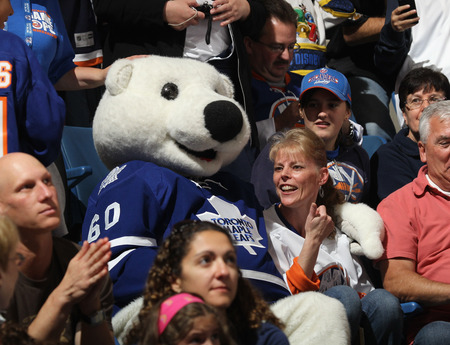 Toronto Maple Leafs:
Quick question: why is it a polar bear when the
team name is Maple Leafs?
Carolina Hurricanes:
Wow look at his skates! They're huge!
Then again... he's not the smallest creature in the
Hockey Town either...
Florida Panthers:
Good, nobody noticed that I snuck
away for a short snack break!
Tampa Bay Lightning:
Crowd surfing!
Washington Capitals:
Da-da da-da-da, DA!
Oh, I think I pulled a muscle...
I'm not as young as I used to be anymore!
Winnipeg Jets:
Boom. Here I am, you call me
Mr. Swag
Group photo!
Hope you enjoyed looking at the amusing mascots and other things (especially the pony!). Happy Hunger Games and May the Odds be Ever in Your Favor! Tell me if you're going to the midnight premiere tonight!
July